Protect and organise your valuable HPLC columns with the new expandable ColStor column storage system. 30-120 HPLC columms. No more column boxes in drawers and cupboards! Read More...
Protect your HPLC system with easy Mobile Phase Bottle Caps including 10 micron solvent filter, colour coded tubing and fittings.
Custom basket for Dabigatran Etexilate Mesylate. 24.5mm opening. Available for all dissolution bath brands - requires a custom shaft and basket hub.
Quality HPLC & GC Consumables and Dissolution Test Accessories Supplied World-Wide!
The Queen's Award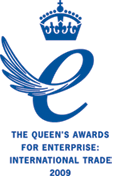 SMI-Labhut was honoured to win the Queen's Award for Enterprise in the International Trade category for 2009. This prestigious award reflects our dedication to customer service and export to over 90 countries.