Lamps - Detector Lamps and Atomic Absorption Lamps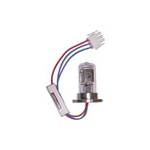 Labhut has many years experience supplying UV detector and Atomic Absorption lamps to over 100 countries.
We are one of the longest established detector lamp suppliers in the industry and a Master Distributor for Heraeus Noblelight.
We offer replacement detector lamps of the highest quality. Our range of UV lamps are guaranteed to work in your detector and will often offer a better performance than your original lamp. PID (Photo Ionisation Detector) lamps are also available for a wide range of applications.
Please Note: Changing your UV detector lamp yourself does not affect the manufacturer's warranty
Select your Lamps - Detector Lamps and Atomic Absorption Lamps