We are pleased to announce that the new LabHut.com website is live! This is version 2 of what will become a large resource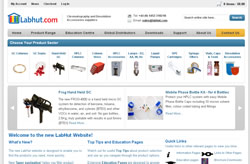 for customers and distributors alike. Based on an extensive e-commerce package and with more than 5000 pages, the new LabHut.com is designed to be easier to use and faster to find products.
Authorised distributors can log-in and display the list prices and distributor prices side by side. if you have not logged in for some time then your password details may be re-set for security reasons - please click here for an account re-set. If you have not logged in before then please click here and request distributor status.
We hope that you like our new website - we are always open for comments, ideas and suggestions!